nixDrafts – Legal Funds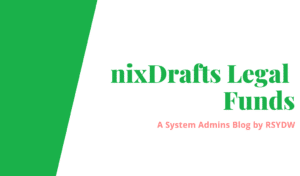 Donations for nixDraft 
If you feel our how to accomplish a particular task in production environment step by step procedures based on 100% already practiced experience is really useful for you or your team anyway or it is benefiting system administrator community and like to motivate us by little contribution from your side .Request you to please consider to donate and give pats on our back to keep our sincere efforts going on over the time.
Why we need support?
nixDraft a server admin blog managed by single person with clear objective to share experience in the benefit of server administrator community and running since 2018. I am a seasoned sysadmin for the SOLARIS LINUX VERITAS VMWARE STORAGE CLOUD over almost two decades and decided to share my practical experience in interest of server admin community as  my individual responsibility to contribute to community with no profit intention. I had started this site for sharing my knowledge and documenting my experience as a sysadmin.
This site is with intention to share my experience in available time as my passion with objective if it can help new comers or professionals as well .I have written many steps with intention to keep it continuing and keep it growing and keep sharing over the years to come.
It is individual site with clear mind and sole and objective is to raise funds for longer run with good  bandwidth, hosting, and other costs involved in it,s operations. It is your absolute right to donate or not for prime objective as it is not a big corporation and i need your support to run the show.